It was fortunate that I wasn´t busy one sunny Saturday in February so Jim and I took the girls down to see what was on offer at the Mercado de Artesanía Multicultural, set up around the Culture Centre in Los Cristianos. I say fortunate because I made the mistake of reading the poster, which indicates the event runs from 21st February to end of March….. But you can´t always believe everything you read.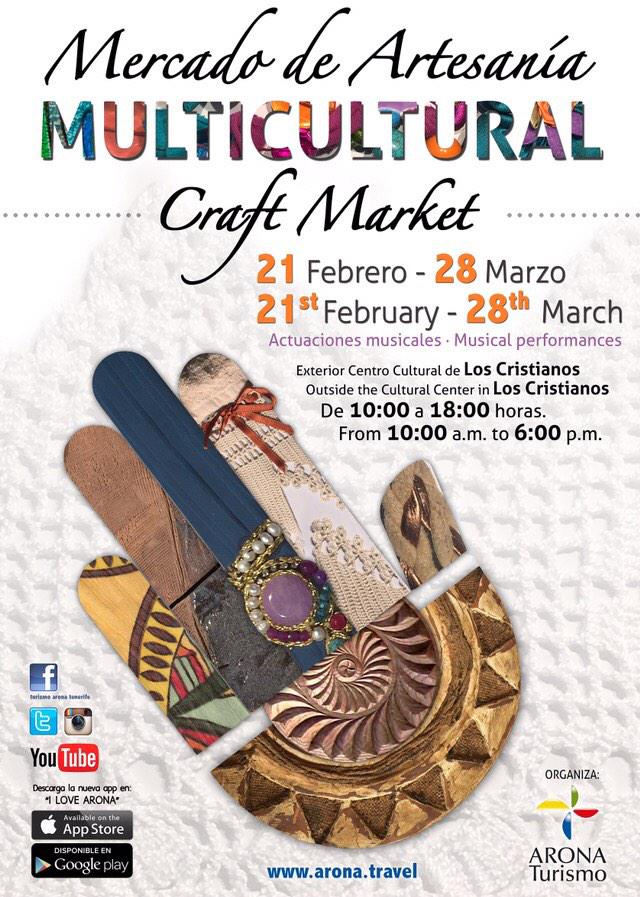 I love these sort of events where you can pick up local goods such as pottery, basketry, hand-made jewellery, wooden toys, leather goods and of course, food and drink. The advantage of this particular fair was you could learn about the different cultures living in this part of the island, as there were 40 stalls all offering high quality goods relating to their own ethnicity – so something to attract and interest most people.
I took the opportunity to stock up, on Almond and Orange Bread, Honey from San Miguel, Cheese from Santa Cruz and buns and biscuits made in Arona town.  I slipped up by not taking the opportunity to buy some hand-made soap or sweets as I thought I could visit the following weekend. NOT SO!  It was a one-day only 'happening', which if I had missed it I would have been very disappointed.  Luckily, it will be repeated again on 28th March, but folks do not make plans for visiting at any other time as it won´t be around.  
Whilst we were shopping there was traditional music being played in the background that gave the whole area a fun and energised feeling that was obviously attracting lots of residents as well as tourists. We sometimes forget that Los Cristianos was not always a resort but a very old fishing town and that particular Saturday afternoon was like stepping back in time to see how possibly commerce was carried out during the 50s and 60s.
I am posting this now as both a reminder to myself and a heads up to anyone who missed the last event to get down to Los Cristianos between 10.00am and 6.00pm on the 28th and I will make sure I get those soaps, sweets and possibly some wine as a couple of people I know have birthdays coming up.
Step Through the Looking Glass and read the  Red Queen Musings